新希望锦官府展示区
New Hope Jinguan Mansion
锦官府地处成都南部核心区位,坐拥完善的金融城配套及千亩生态资源。新希望集团联合GND设计,在五千年泱泱历史中探得府居威仪,在成都打造府系高端筑品——新希望·锦官府,成为启幕金融城全新生活方式的划时代之作。
Jinguan Mansion is located in the core area of southern Chengdu, with a complete financial city supporting and thousands of acres of ecological resources. New Hope Group and GND design explored the prestige of the house in the history of five thousand years to build a high-end building in Chengdu - New Hope Jinguan Mansion, the epoch-making of the new lifestyle of the opening of the financial city.
锦官府借鉴了传统庭院的造园模式,以五重空间规划将生活的雅趣发挥到了极致。设计敏锐地将天府文化和场地独有的气质相结合,以成都十景为原型进行造园。对中式府院的传承与全新演绎,定制一座专属于成都的王府礼序空间。
Jinguan Mansion draws on the gardening mode of the traditional courtyard, and uses the five-fold space plan to bring the taste of life to the extreme. The design subtly combines cultures of the Land of abundance and the unique temperament of the site, built the garden with the ten scenic spots in Chengdu as the prototype. For the inheritance and new interpretation of the Chinese-style manor, the design customizes a mansion of royal sequence dedicated to Chengdu.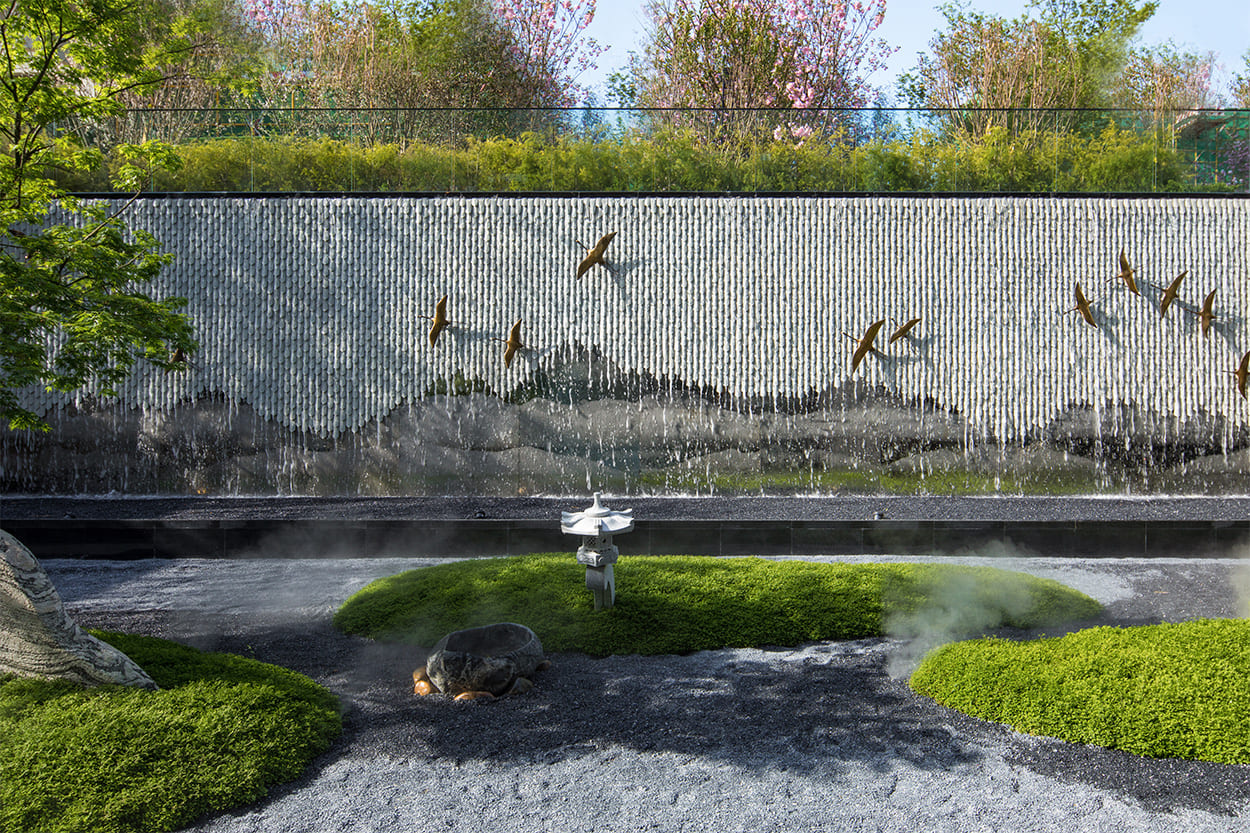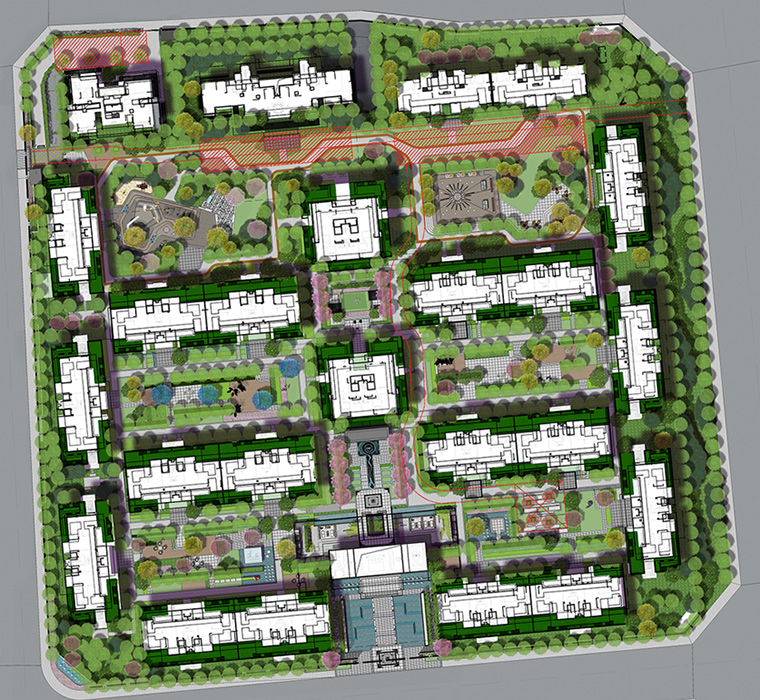 入口景观以中轴对称的方式布置,两侧连绵的装饰柱裹挟逐渐升高的地台和水景,诠释了设计的美好愿景:平步青云,金玉满堂。
The entrance landscape is arranged in a symmetrical manner in the middle axis. The continuous decorative columns on both sides are wrapped in the gradually rising platform and waterscape, which explains the beautiful vision of the design: get promotion and be wealthy.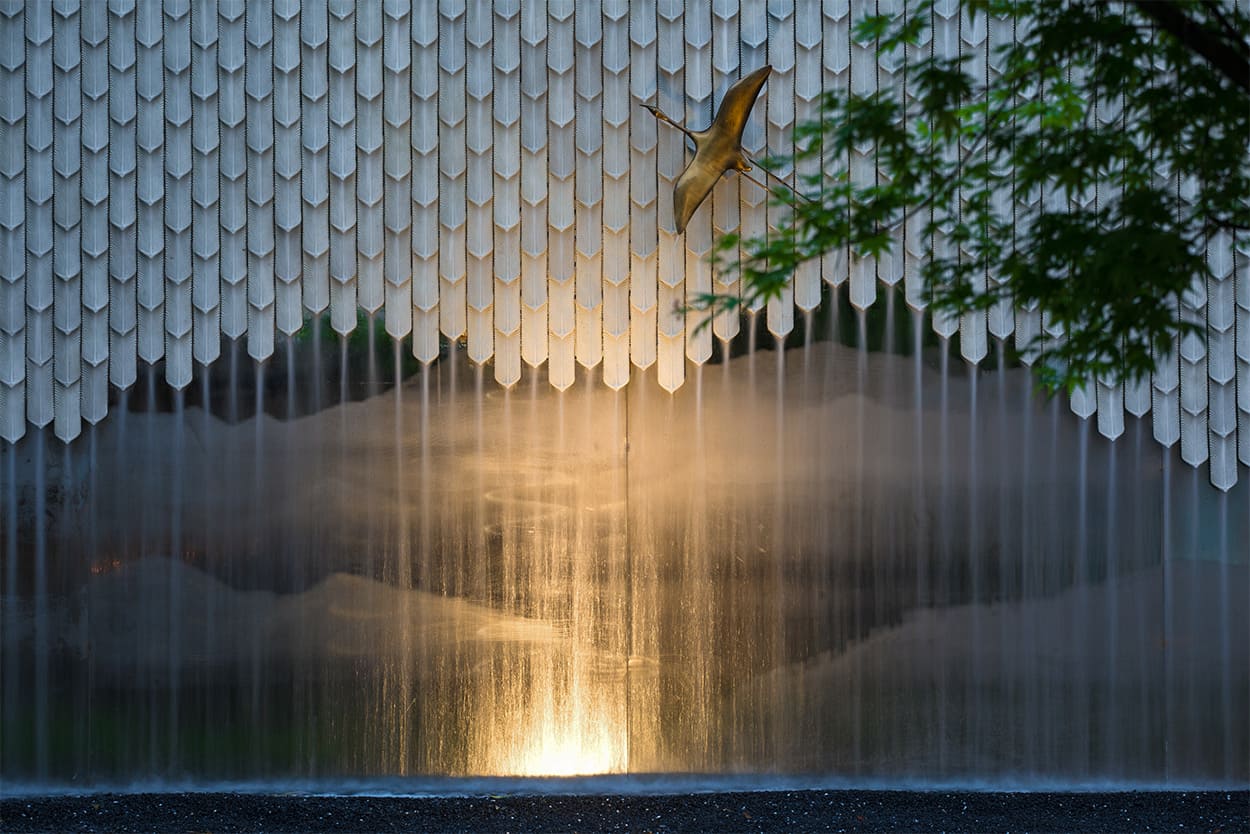 下沉庭院艺术水幕墙,串联着庭院与上部空间景观,鹤群优美灵动,与园区和延绵地景描绘出一副自然画卷。虚实结合,步移景异,在有限的空间里为访客创造多重感官体验,一步步往内别有洞天。
With the beautiful and agile cranes, sinking courtyard art water wall connects the courtyard and the upper space landscape in series, depicting a natural picture with the park and the extended landscape. Real sights hidden in virtual, each step brings you into different sceneries, create multiple sensory experiences for visitors in a limited space, the more you step into, the spectacular you feel.
中庭景观布置中正平和,水景与园景交相掩映,在楼宇之间有如一幅遗世独立的山水之卷,一种虽"结庐人境",却超然物外心寄山水的情感油然而生。
The landscape of the atrium is ordinary but peace, and the waterscape intertwines with the landscape, a scroll of solitude landscapes between the buildings has unfolded. The emotion that "I build my cot in people's haunt" but still surpass the materials world and send spirit to the nature has grown.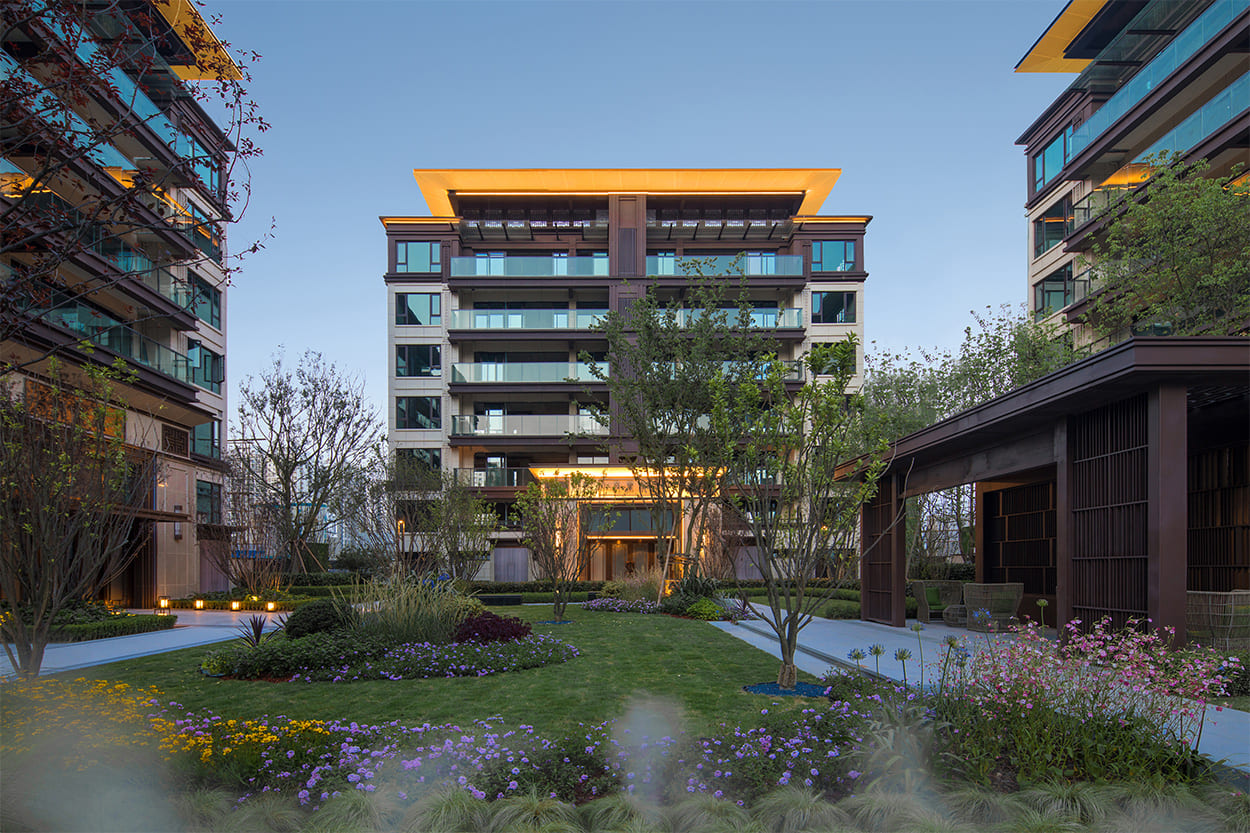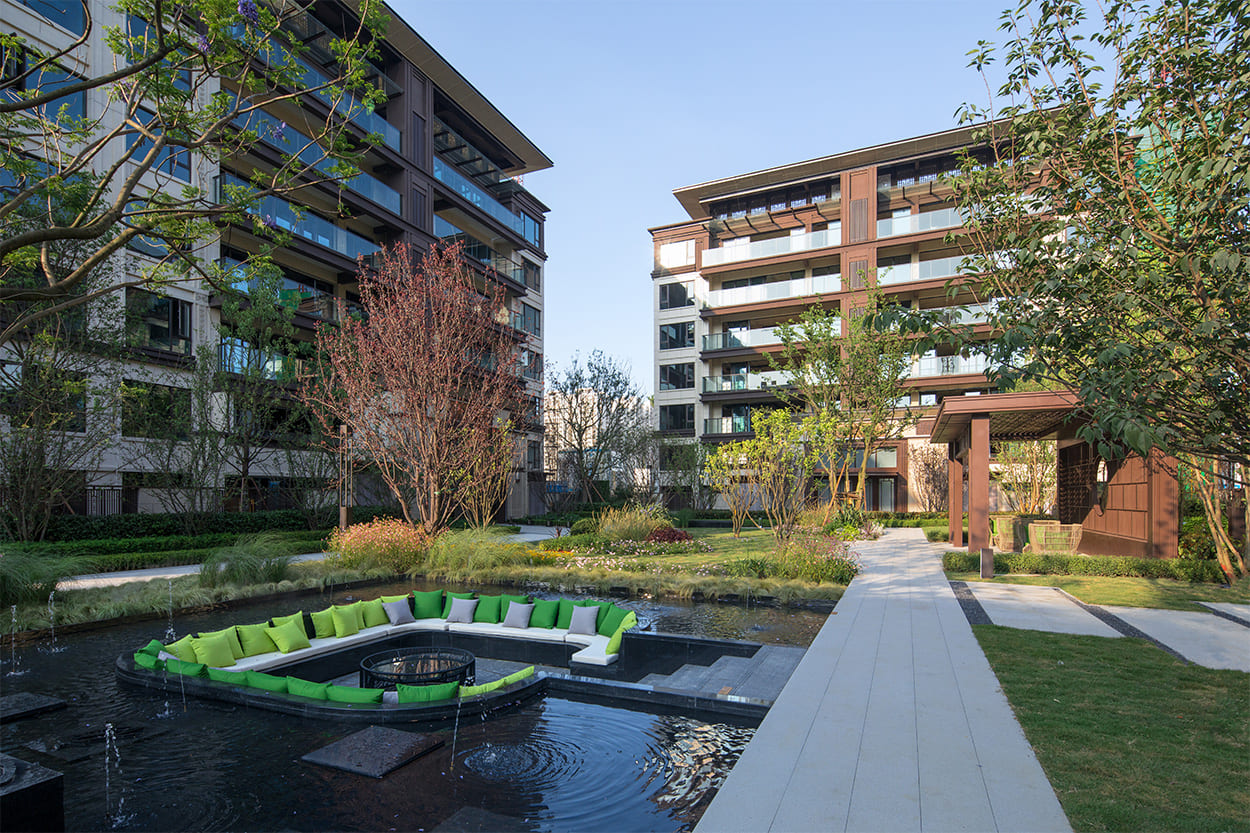 运用丰富的植物营造动态景观,随着季相变化,完美诠释园林四季交替的自然之美,使人们在不同的季节享受不同的风景。
Diverse and flourishing plants are used to create a dynamic landscape, with the changes in the seasons, which perfectly displays the natural beauty of the garden in the changing seasons, allowing people to enjoy themselves in different sceneries of different seasons.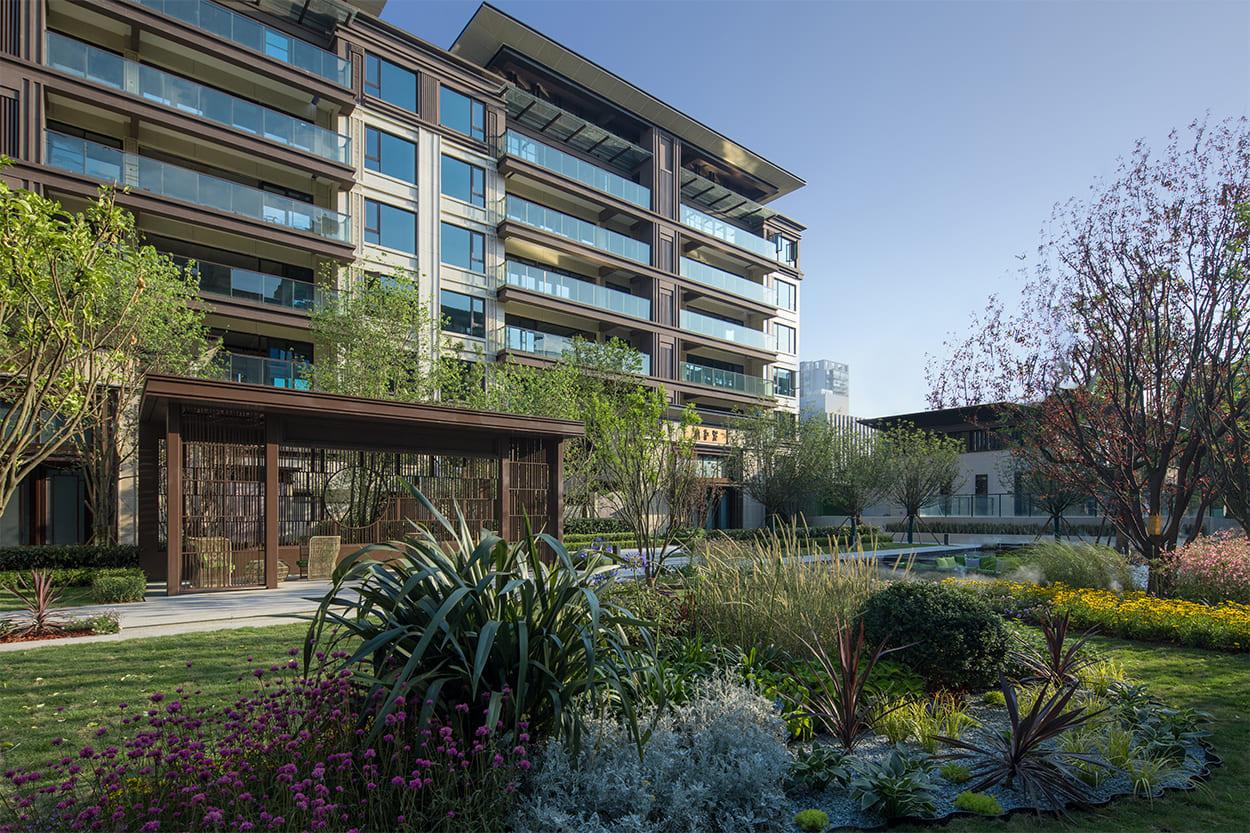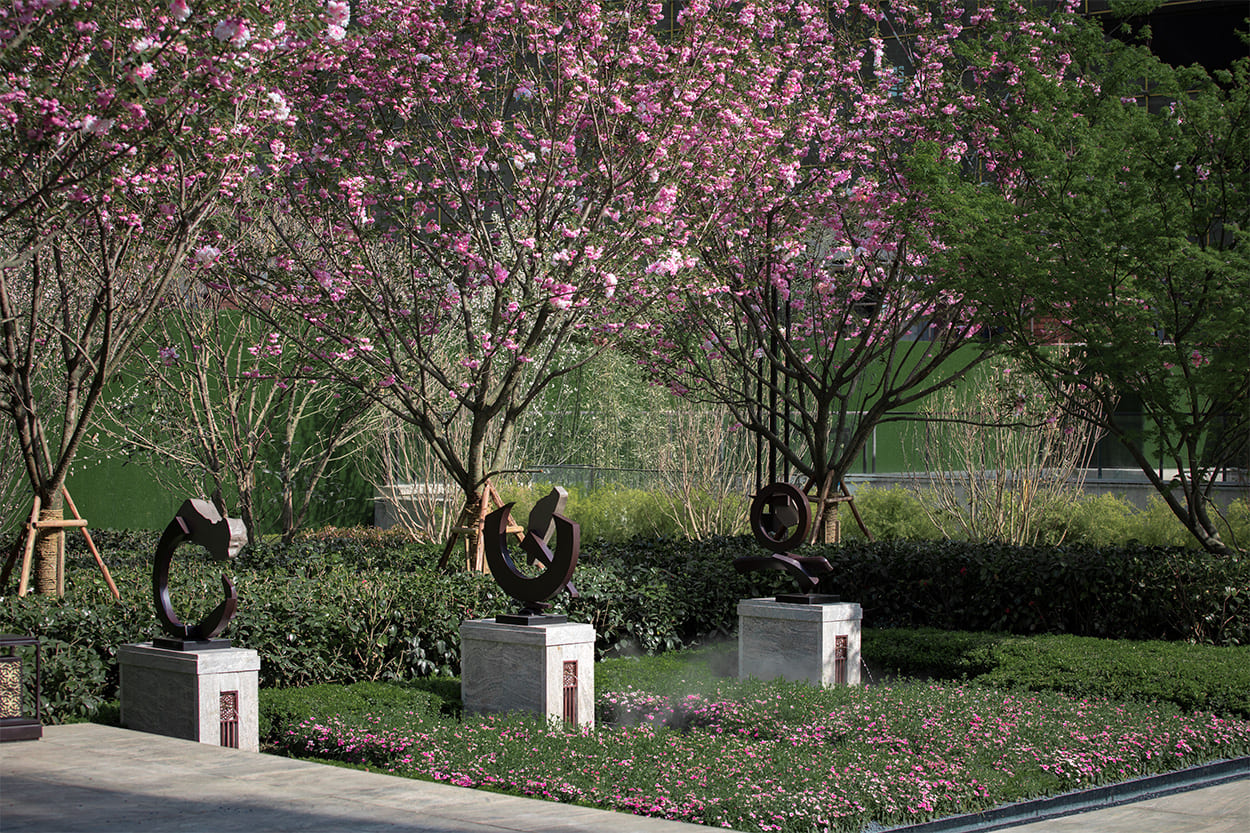 GND景观设计以细腻丰富的创意,将东方美学精神灌注到空间每一个细微深处,既有王府气韵的沉淀,又有时尚视角的妙笔,使中华文化成为设计价值的一部分,赋予国人理想的居住环境,唤起人们对精神享受的感知与追求。
GND landscape design with delicate and rich ideas, infused the oriental aesthetic spirit into every subtle depth of the space, both the precipitation of the royal palace and the wonderful perspective of fashion, making Chinese culture a part of the design value, giving Chinese people an ideal residence, and evoking the perception and pursuit of spiritual enjoyment.